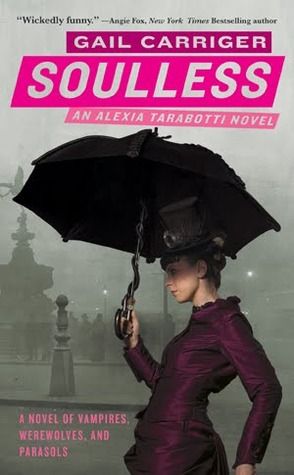 Title:  Soulless
Author:  Gail Carriger
Series: Parasol Protectorate #1
ISBN:  0316056634
Publisher:  Orbit
Pub. Date: 2009
Source: Kindle
Genre: Science Fiction/ Fantasy/ Paranormal / Historical Romance / Mystery
Pages:  373
Rating:  5/5
Synopsis (from Goodreads.com):  Without a morsel of exaggeration, its publisher describes this debut novel as "a comedy of manners set in Victorian London full of werewolves, vampires, dirigibles, and tea-drinking." At the center of Soulless's "parasol protectorate" is Miss Alexia Tarabotti, a young woman who lacks not only a suitor but also a soul. And those are not her only problems: When she accidentally kills a vampire, it begins a series of events that she must set out to resolve without the help of any proper authorities. A charming mass market original.
My Reveries and Ramblings: Alexia Tarabotti is the daughter of an Italian-making her tan, assertive, big-nosed, and curvy.  Unlike her mother and half sisters, she also happens to be soulless (the preferred term being preternatural).  After being attacked by a vampire, Alexia is forced to uncover the mystery behind recent vampire and werewolf disappearances.  In doing so, her relationship with the alpha of the London werewolves, Lord Maccon, intensifies in every way.
I loved this book.  Gail Carriger does a fantastic job twisting the paranormal into steampunk Victorian England.  This satire is filled with great characters, an interesting plot, and lots and lots of tea.  The protagonist, Alexia Tarabotti was born a preternatural, or without a soul.  By simply touching a vampire or werewolf, she can rid them of their supernatural abilities, or turn them human.  This only works if she is physically touching them; as soon as she removes her touch, they are back to their supernatural state.  Lord Maccon arrives right after Alexia kills her attacker with her parasol.  He is a Scottish alpha werewolf who finds Alexia to be a pain in his-well, you know what I mean.  Lord Maccon grows deeper feelings for Alexia-or rather, he comes to realize his deeper feelings for her throughout the first half of the novel.  He is accompanied by his Beta, Prof. Lyall.  Even though Prof. Lyall is a werewolf, he is the opposite of Lord Maccon.  Where Lord Maccon is rude, primal, and a bit wild, Prof. Lyall is well-mannered, civilized, and tame.   I loved Lord Maccon.  I really enjoyed reading the banter between him and Alexia.
The story is set in 19th century (steampunk) Victorian England.  This novel had me laughing out loud.  Alexia, like everyone else at that time, is obsessed with manners and proper etiquette.  To her, the end of the world would occur when it ran out of tea.  However, she does realize the absurdity of her family and how they judge others.  Alexia's family reminded me so much of the Bennet family in Pride and Prejudice.  There were also some similarities between Alexia and Elizabeth, not tons, but definitely some.
I would highly recommend this book.  Warning: there is a sex scene, kissing, some nudity, and a bit of blood.
Amazon | Barnes & Noble | Book Depository