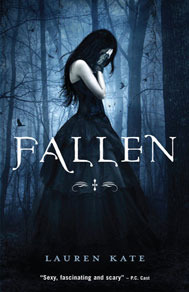 Title: Fallen
Author: Lauren Kate
Series: Fallen #1
ISBN: 0385739133
Publisher: Random House Children's Books
Pub. Date: December 2009
Format: Kindle
Genre: Paranormal/Fantasy/Romance/YA
Rating: 5/5
Goodreads: There's something achingly familiar about Daniel Grigori. Mysterious and aloof, he captures Luce Price's attention from the moment she sees him on her first day at the Sword & Cross boarding school in sultry Savannah, Georgia. He's the one bright spot in a place where cell phones are forbidden, the other students are all screw-ups, and security cameras watch every move.
Even though Daniel wants nothing to do with Luce–and goes out of his way to make that very clear–she can't let it go. Drawn to him like a moth to a flame, she has to find out what Daniel is so desperate to keep secret . . . even if it kills her.
Dangerously exciting and darkly romantic, Fallen is a page turning thriller and the ultimate love story.
My Reveries and Ramblings: Fallen by Lauren Kate is the first book in the Fallen series. This was the first fallen angel book I've ever read and I loved it. The Luce, Cam, and Daniel love triangle was well written. I was always Team Daniel. However, there were times when I became very frustrated with him and wished Daniel was a bit more like Cam.
The pacing was a bit slow in the beginning, but I felt it was necessary. It did pick-up, though. The ending was fast paced and suspenseful with a good twist. I finished the novel with several unanswered questions that will most likely be answered in the next three books in the series.
Now, let's talk about the cover art. I love it! It fits perfectly with the story and grabs your attention. If I had come across this book in the book store I would have picked it up.
Amazon
| Book Depository
Book Trailers: