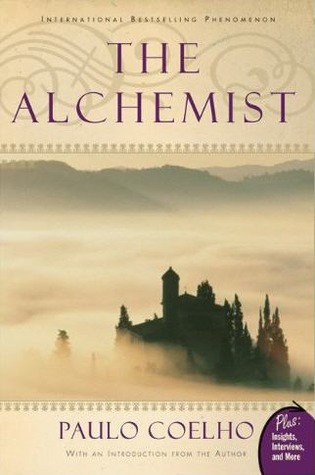 Title: The Alchemist
Author: Paulo Coelho
ISBN: 0061122416
Publisher: Harper Collins
Pub. Date: 1988
Source: Library
Tags: Fantasy/Classics/Fiction/ Adventure/ Spirituality
Pages: 197
Rating: 3/5
From Goodreads:  (from Goodreads.com) Paulo Coelho's enchanting novel has inspired a devoted following around the world. This story, dazzling in its simplicity and wisdom, is about an Andalusian shepherd boy named Santiago who travels from his homeland in Spain to the Egyptian desert in search of treasure buried in the Pyramids. Along the way he meets a Gypsy woman, a man who calls himself king, and an Alchemist, all of whom point Santiago in the direction of his quest. No one knows what the treasure is, or if Santiago will be able to surmount the obstacles along the way But what starts out as a journey to find worldly goods turns into a meditation on the treasures found within. Lush, evocative, and deeply humane, the story of Santiago is art eternal testament to the transforming power of our dreams and the importance of listening to our hearts.
My Reveries and Ramblings:  This book was very message oriented.  In the story, Santiago leaves everything behind to follow his dream.  That's the message: follow your dream no matter how impossible or inconvenient it is.  If you want something and I mean really want it with all your being then it is your "personal legend."  It was a very inspirational and uplifting story.  The beginning was slow; and by slow I mean almost-stopped-reading-slow.  In fact, I seriously considered closing the book and never thinking of it again.  But I decided to try and finish it…it's only 197 pages…I could finish it.  By about halfway through I wanted to find out if Santiago had achieved his dream and found the treasure.  I continued reading.  When I finished, I felt inspired to fulfill my own dream(s).
Overall, I really liked it.  The writing was simple; so much so that it was an easy read.  The style reminded me of the Native American legends that I read in middle school (the ones in the "Reading" Anthologies).
Amazon | Barnes & Noble | Book Depository