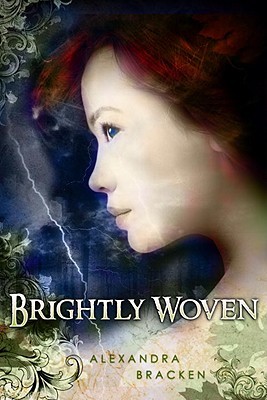 Title: Brightly Woven
Author: Alexandra Bracken
ISBN: 978-1606840382
Publisher: Egmont USA
Pub. Date: March 2010
Source: Library
Genre: YA/Fantasy/Romance/ Magic/Adventure
Pages:  368
Rating:  5/5
From Goodreads:  Sydelle Mirabil is living proof that, with a single drop of rain, a life can be changed forever. Tucked away in the farthest reaches of the kingdom, her dusty village has suffered under the weight of a strangely persistent drought. That is, of course, until a wizard wanders into town and brings the rain with him.
In return for this gift, Wayland North is offered any reward he desires—and no one is more surprised than Sydelle when, without any explanation, he chooses her. Taken from her home, Sydelle hardly needs encouragement to find reasons to dislike North.       He drinks too much and bathes too little, and if that isn't enough to drive her to madness, North rarely even uses the magic he takes such pride in possessing. Yet, it's not long before she realizes there's something strange about the wizard, who is as fiercely protective of her as he is secretive about a curse that turns his limbs a sinister shade of black and leaves him breathless with agony. Unfortunately, there is never a chance for her to seek answers.
Along with the strangely powerful quakes and storms that trace their path across the kingdom, other wizards begin to take an inexplicable interest in her as well, resulting in a series of deadly duels. Against a backdrop of war and uncertainty, Sydelle is faced with the growing awareness that these events aren't as random as she had believed—that no curse, not even that of Wayland North, is quite as terrible as the one she herself may carry.
My Reveries and Ramblings:  Wow! This was one exciting adventure.  Sydelle lives in a poor small village where there is currently a drought.  It hasn't rained in 7 years.  One day a wizard, North Wayland, comes and makes it rain.  At his request the Sydelle's father gives her to North for this service.  Both begin their journey to warn the queen about the upcoming war and who truly poisoned and killed the King.  Clearly upset at being forced from her home, Sydelle tries to ignore him, but actually ends up yelling at him quite a lot.  North ignores her yelling, especially when he's drunk.  After several messy encounters with other wizards, Sydelle finds it difficult to be mad at him.  Her hatred turns to compassion.
Sydelle is 16 yr. old weaver who has the ability to repair magical talismans.  I really respected her strength and determination.  She also has a habit of attracting the worst sort of trouble.  However, North doesn't mind rescuing her and playing the part of hero. I just loved North.  He reminded me of Howl from Howl's Moving Castle (the movie).  On the outside he is strong, stubborn, very good looking, and optimistic.  On the inside, he is cursed and tortured.  Both North and Sydelle are very selfless characters.  Their willingness to do anything to save their country, even sacrifice their lives, was touching.
Magic is a large part of this book.  However, the relationship between Sydelle and North forces the reader to look beyond all the magic, war, and secrets and watch as two people see the good and importance in the other.  Both characters have always felt insignificant and do their best to fight that feeling.  That doesn't mean the feeling goes away.  Their love and kindness for each other removes their insecurities making them all the more powerful and useful.
Behind this love story, there is a journey involving a war.  The upcoming war is based on rumor, and therefore does not need to be fought, especially since it is a false rumor.  Alexandra Bracken handles the issue of a reason-less war with care.  The threat of many lives lost hangs over the characters giving them a very real consequence if they fail.  It gave the story a sense of urgency.
Alexandra Bracken built a beautiful and very original world.  The countries had their own religions, myths, legends, etc.  She established guilds, abundant resources for the regions as income, and different terrains.  It was all very engaging.  I would love to jump back into the world, even though Bracken currently has no plans to write a sequel.  I adored this book.  The writing flowed easily and Bracken's word choice and phrasing made Sydelle's voice clear and relatable to the reader.  Brightly Woven is an enthralling adventure that will leave you eager for more.
Amazon | Barnes & Noble | Book Depository