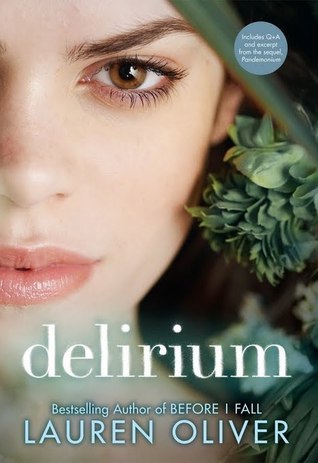 Title: Delirium
Author: Lauren Oliver
Series: Delirium #1
ISBN: 978-0061726828
Publisher: HarperCollins
Pub. Date: February 2011
Source: Library/Kindle
Genre: YA/Dystopia/Romance
Pages: 448
Rating:  5/5
From Goodreads:  Before scientists found the cure, people thought love was a good thing. They didn't understand that once love — the deliria — blooms in your blood, there is no escaping its hold. Things are different now. Scientists are able to eradicate love, and the governments demands that all citizens receive the cure upon turning eighteen. Lena Holoway has always looked forward to the day when she'll be cured. A life without love is a life without pain: safe, measured, predictable, and happy.  But with ninety-five days left until her treatment, Lena does the unthinkable: She falls in love.
My Reveries and Ramblings: The beautiful message of Delirium:  Love.  A four letter word.  A word that has caused people to write poetry, songs, and countless novels.  A word that has led people to take their own lives.  Love is complex.  Love can be happy and sad at the same time.  Love can be overwhelming.  It is like chocolate for the soul.  One can survive without it, but, they can not live without it.  Love doesn't always have to be romantic, it can be parental, or between friends or siblings.  It can take any form, but without it, we aren't really alive.
Delirium is, down to the binding, a book about love.  In a society where love, deliria, is thought of as a lethal disease.  At the age of 18, people are "cured."  This involves going through a surgery that will ultimately cure you of deliria and keep you from getting it.  The summer before Lena is scheduled to be cured, she meets Alex.  Originally thinking he is cured (she sees this "surgery" scars), Lena talks to him.  However, soon she discovers that not only is he uncured, but he is also a rebel, an Invalid.  The Invalids are people who live in the Wilds, outside of the borders.  They hate what the US government is doing, controlling people by removing their ability to love.  After confessing who he really is, Lena is petrified that she has become infected with deliria.  She has always been scared of contracting the disease. Her mother had it, even though she went through three separate surgeries to get it removed.  It destroyed her.  After getting saved by Alex during a raid, Lena officially falls for him.  Their love opens her eyes to how dead she was before she fell in love.  The tightly controlled loveless world she has always known is wrong.  It is with Alex that she realizes that everything she has ever known, all the rules she was molded by, is a lie.  Their love is a tragedy waiting to happen.  Lena only has a few months before getting cured.  After that she will go to college and marry her assigned match.  Before Alex, she couldn't wait. Now, she would rather die than live without love.
I had a love/hate relationship with this book.  I find dystopian literature interesting, but very hard to get through.  I almost always have to put the book down after each chapter or so because I'm so angry or scared.  Dystopian societies are frightening.  Which is why I rarely read them.  When I do, I read a lot of reviews on the book to make sure it is worth the emotional roller coaster I will most likely be going on.  This one intrigued me because not only are people oppressed, but they think it's the only way.  They want to be cured.  The population is brainwashed through the government's control of communication.  By controlling what people read, watch, listen to, etc., the government convinced people that love (deliria) is a terrible disease.  Without love, people don't feel the need to die unnecessarily or fight for anything.  It's probably the strongest emotion a human can have.  However, the idea that people are forced to undergo a surgery to never love, that pains me.  This book was so hard to get through because I was so shocked at the cruelty of it.  Those who knew the truth about it were severely punished or killed (usually the latter).
Lena is a seventeen yr old girl who is looking forward to being cured at the end of the summer.  She always follows the rules, and believes that the government and the cure are protecting her from a painful death.  She wants nothing more than to live her life without the fear of contracting deliria.  Her transformation in the book was slow and gradual.  Written through her POV, the reader sees the uncertainty and fear in her. She started scared, insecure, and very ignorant.  As the story progresses she finds love, learns the truth, and finds strength in having her own mind.  Alex, an Invalid, was born in the Wilds and moved around a lot.  He falls in love with Lena, forcing her to rethink everything about herself, essentially a mild identity crisis.  Alex teaches Lena about love and how it's those who can't love that aren't really living.  He opens her eyes.  Their relationship is very Romeo-and-Juliet-esque.  He risks his life every day to see her; if he was caught he'd be killed.  The only other person who knows about their relationship is Hana, Lena's best friend.  She is not looking forward to the cure.  People in this society would call her a rebellious teen, however in reality (the reader's world) she would be seen as a normal 17 yr old.  She supports their relationship and helps Lena sneak out after curfew to see him.
Lauren Oliver wrote a story that makes you think and reflect on the importance of love and how we, as human beings, sometimes take for granted that we can love.  She also explores the lengths people would go through to keep love and those they love.  Delirium invoked so many emotions in me.  Alex and Lena's love was beautiful.  It was slow and shown through actions.  The words "I love you" are rarely said.  But the intention, the love, is there.  You see it in the sacrifices and risks made.  Everything about Delirium was amazing.  Instead of hating Lena for believing in propaganda the government puts out to brainwash, Lauren Oliver shows us through her POV so that the reader understands.  Delirium wasn't exactly action packed.  There were a few action scenes, but not many and they were spread out.  The book is filled with suspense.  It looms over the story sending chills through your spine and increasing your heart rate.  Lena and Hana could be running and you still feel that weight, that feeling of being watched that fills you with apprehension.  I'm so glad I picked up this book.  This heartbreaking novel will leave you in tears.  I cannot wait until the sequel comes out!
Warning: Cliff-hanger ending.
Amazon | Barnes & Noble | Book Depository
TV Show Trailer (<< updated on August 30, 2015)
(
click here
to listen to Lauren Oliver's official playlist for Delirium)
[spotify https://open.spotify.com/user/121171848/playlist/3mIiyabf6hGqjbe7kZ4SKV]