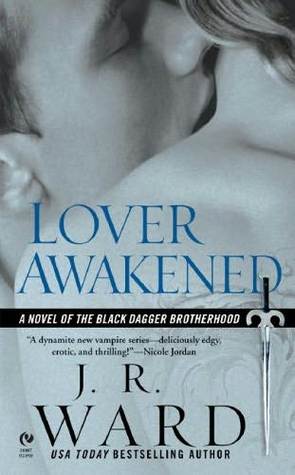 Title: Lover Awakened
Author: J.R. Ward
Series: Black Dagger Brotherhood #3
ISBN: 978-0451219367
Publisher: Signet
Pub. Date: September 2006
Source: Kindle
Genre: Paranormal/Romance/Urban Fantasy
Pages: 464
Rating:  5/5
From Goodreads:  In the shadows of the night in Caldwell, New York, a deadly turf war rages between vampires and their slayers. There exists a secret band of brothers like no other-six vampire warriors, defenders of their race. Of these, Zsadist is the most terrifying member of the Black Dagger Brotherhood.
A former blood slave, the vampire Zsadist still bears the scars from a past filled with suffering and humiliation. Renowned for his unquenchable fury and sinister deeds, he is a savage feared by humans and vampires alike. Anger is his only companion and terror his only passion-until he rescues a beautiful female from the evil Lessening Society.
Bella is instantly entranced by the seething power Zsadist possesses. But even as their desire for each other begins to overtake them, Zsadist's thirst for vengeance against Bella's tormentors drives him to the brink of madness. Now Bella must help her lover overcome the wounds of his tortured past and find a future with her.
My Reveries and Ramblings: First things first:  Black Dagger Brother series by J.R.Ward is OUTSTANDING! Okay, got that out of my system, now on to the review.  This book was hard to get through.  Zsadist rescues Bella after she was kidnapped in the previous book, Lover Eternal.  Zsadist was the only one who didn't give up.  Everyone else assumed she was dead since she was kidnapped by lesser.  The lesser who kidnapped her, David, wanted her to be a replacement wife since she looked so much like his dead wife.  When Zsadist finally finds her, she is beaten to a pulp, unconscious, and has David's name etched into her stomach.  The brothers bring her back to the main house.  There they try to get Zsadist to leave her alone, but he won't.  He insists on caring for her.  After Bella awakes she tries desperately to get him to want her.  Zsadist does want her! His past keeps him from doing anything.  The other brothers are also hesitant to allow Zsadist to spend time with Bella.  The other story arcs are also in this installment.  Phury's character and history are discussed.  J.R. Ward also shows life in the Wellie-Tohr-John Matthews family.
J.R. Ward wrote such amazing characters in The Black Dagger Brotherhood series. All the characters are so complex-especially in Lover Awakened.  For romance novels, these have a ton of depth.  Zsadist is a very tortured character. Having been a blood and sex slave (I'm leaving out all the gruesome details….and believe me its quite horrifying) before being rescued by Phury, Zsadist finds sex revolting.  He is mentally as well as physically scarred by his past.  The abuse he suffered caused him to think he was dirty, evil, and impure.  When Bella wants to be with him, he refuses.  He thinks she is too pure, good, and beautiful to be soiled by him.  Over time, however, Bella breaks down most of the walls that Zsadist built.  This huge change, from feeling hatred to love, causes Zsadist to become confused.  He spends most of the book sorting through his issues.  J.R. Ward also used a bit of symbolism in Zsadist's eyes.  The eyes are windows to the soul.  His soul and state of mind were reflected in the irises of his eyes.  Phury, Zsadist's brother, also loves Bella.  He is torn between his love for his brother and his love for Bella.  She is the only female that has ever threatened his vow of celibacy.  However, when he sees the transformation happening to Zsadist, he backs off, but not happily.
After being kidnapped, Bella has some issues, although no where near as terrible and complicated as Zsadist's.  While she was being held captive by David, she prayed, hoped, and wished Zsadist would come for her.  After ending up with the brotherhood, Bella tries everything to be with Zsadist.  At first she's not that successful because whenever she gets close to him, he pushes her away.
David, the main villain in this story, was sick and twisted.  Ugh!  I hated him….awful…terrible….evil…..I could go on forever.  Before becoming a lesser he was married.  He was physically and emotionally abusive to his wife.  When she died, his insanity got worse.  After joining the lessers he started looking for his "wife."  One day while searching Mary's house for her he saw Bella walking across the yard.  Since she looked like his dead wife, he kidnapped her.  He never raped her, because, well, he can't really feel anything like that down there so it would be pointless.  But he did use her as a punching bag.  He's very violent so whenever he was upset, or angry he would take it out on her.  He would then follow the abuse with an "I love you."  Poor Bella.
This series is amazing!  I've been getting these books from the library, but after this one I've decided to go ahead and by the whole series.  Every time I had to return one of the books, I wanted to cry.  Lover Awakened is my favorite in the series so far.  Zsadist, who was more of the villain on the good side, turned into the true hero-so touching.  This book is very emotional.  You might find yourself crying, laughing, and screaming.  A side note:  Zsadist and Bella's story reminded me of a rated R and slightly altered version of Beauty and the Beast.  I highly recommend this series.
Amazon | Barnes & Noble | Book Depository
[spotify https://open.spotify.com/user/121171848/playlist/1ZprDhiaDYNdSJw1OD0Ey0]