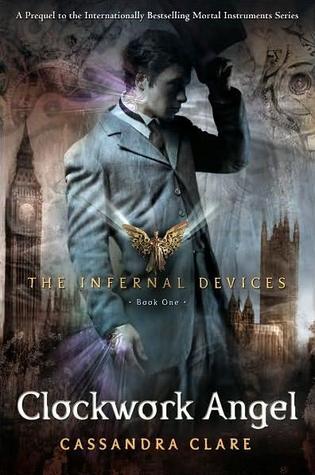 Title: Clockwork Angel
Author: Cassandra Clare
Series: Infernal Devices #1
ISBN: 9781416975861
Publisher: Margaret K. McElderry Books
Pub. Date: 2009
Source: Library
Genre: Fiction/ Supernatural/ YA/ Steampunk/ Victorian / Magic / Paranormal Romance
Pages:  479
Rating:  5/5
From Goodreads:  When sixteen-year-old Tessa Gray crosses the ocean to find her brother, her destination is England, the time is the reign of Queen Victoria, and something terrifying is waiting for her in London's Downworld, where vampires, warlocks and other supernatural folk stalk the gaslit streets. Only the Shadowhunters, warriors dedicated to ridding the world of demons, keep order amidst the chaos.
Kidnapped by the mysterious Dark Sisters, members of a secret organization called The Pandemonium Club, Tessa soon learns that she herself is a Downworlder with a rare ability: the power to transform, at will, into another person. What's more, the Magister, the shadowy figure who runs the Club, will stop at nothing to claim Tessa's power for his own.
Friendless and hunted, Tessa takes refuge with the Shadowhunters of the London Institute, who swear to find her brother if she will use her power to help them. She soon finds herself fascinated by–and torn between–two best friends: James, whose fragile beauty hides a deadly secret, and blue-eyed Will, whose caustic wit and volatile moods keep everyone in his life at arm's length…everyone, that is, but Tessa. As their search draws them deep into the heart of an arcane plot that threatens to destroy the Shadowhunters, Tessa realizes that she may need to choose between saving her brother and helping her new friends save the world…and that love may be the most dangerous magic of all.
My Reveries and Ramblings:  Tessa traveled to England hoping to live with her brother when she is kidnapped by the Dark Sisters.  They convince her to cooperate by telling Tessa that they have her brother.  They force her to awaken her hidden powers-ones she didn't even know she had.  When the Sisters tell Tessa of their plans to marry her to the Magister, she attempts to escape and is punished.  Will, a shadowhunter investigating a murder, turns up just in time to rescue her.  Tessa is drawn into a world of magic, vampires, werewolves, warlocks, and secret societies.  Tessa is faced with a difficult question: who is she? And is she really human?
This story takes place in a fictional Victorian England-complete with steampunk and supernatural creatures.  I was drawn in from the start.  Cassandra Clare tactfully catches the reader's attention in the first few chapters, making it almost impossible to put down.
Her characters were all beautifully written.  Tessa is relatable.  I saw a lot of myself in Tessa.  Like Tessa, I love to lose myself in books.  I really enjoyed all the references Tessa and Will both made to other works of literature.  Tessa, like many sixteen-year-old girls, is insecure.  She falls into a deeper hole of doubt when she realizes that she may not be human.  This causes her to question everything she has ever known.         However insecure she was, her values remained strong.  She never waivered from what she knew was right and wrong.  I felt that Tessa had matured throughout the book.
Will is a witty and arrogant shadowhunter.  I loved reading his witty dialogue.  Most of his remarks had me laughing out loud.  I was concerned, though.  It became apparent partially through the book that there is something deeper there.  Something painful and sad.  Almost all the characters notice this about him.  He uses wit, humor, and fighting as defense mechanisms.  He even keeps Tessa at a distance.
Jem is the only person Will seems to open up the most with-which isn't a lot actually.  Jem is such a sweetheart.  His character was heart wrenching to watch (read).  I have to say-Jem had the best inspirational quotes.  He's so cute ❤
I LOVED this book.  I was never bored.  I loved everything about it-the characters, the story, the romance, etc.  I recommend you buy this book!!! It's definitely worth re-reading over and over again.
*Spoiler Alert * If you have already read this book  then highlight the area below…Those of you who haven't read Clockwork Angel, you have been warned.
Okay, so I can't decide who I like better: Will or Jem.  I love Will-his carefree attitude and his wit are hilarious to read.  But he puts up so many walls that it's so hard to tell what's going on in his head.  One moment it's like he loves Tessa and then the next he's being a jerk.  At the end when he tells her they can't get married? What's with that? He doesn't seem like he loves her but then sometimes he does-I'm so confused with him.  Jem on the other hand is the kind of guy that in real life is my type.  I find Will SO attractive but he's just not my type-maybe my fictional self's type (if I ever wrote one), but not mine.  Jem is the perfect gentleman and so optimistic which is so refreshing compared to Will's I-don't-give-a-damn approach to life.  
I was shocked when that twist at the end came.  That was just sooooo unexpected.  At that point, I was racing to see what happened next.  How could Nate do that to his sister? And that last scene with Will and Magnus…I want to know what happens!!  It's going to be torturous waiting for the next book.  
What did you think?
Amazon | Barnes & Noble | Book Depository
BB&R Book Playlist:
[spotify https://open.spotify.com/user/121171848/playlist/7DWKJttVutNGWevoT1LFMI]
Book Trailers: