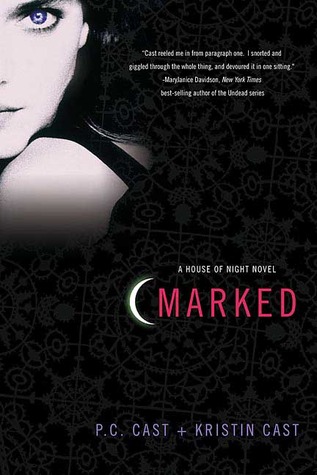 Title: Marked
Author: P.C. Cast and Kristin Cast
Series: House of Night #1
ISBN: 0312360266
Publisher: St. Martin's Griffin
Pub. Date: 2007
Source: Borrowed Hardcover
Genre: Paranormal/ Romance/ YA/ Fantasy
Pages: 320
Rating:  3/5
From Goodreads: The House of Night series is set in a world very much like our own, except in 16-year-old Zoey Redbird's world, vampyres have always existed.  In this first book in the series, Zoey enters the House of Night, a school where, after having undergone the Change, she will train to become an adult vampire–that is, if she makes it through the Change.  Not all of those who are chosen do.  It's tough to begin a new life, away from her parents and friends, and on top of that, Zoey finds she is no average fledgling.  She has been Marked as special by the vampyre Goddess, Nyx.  But she is not the only fledgling at the House of Night with special powers.  When she discovers that the leader of the Dark Daughters, the school's most elite club, is misusing her Goddess-given gifts, Zoey must look deep within herself for the courage to embrace her destiny–with a little help from her new vampyre friends.
My Reveries and Ramblings:  The day Zoey Redbird was marked changed her life forever.  However, it didn't change for the worse.  It changed for the better.  At home she had to live with her stepfather, who was a member of a religious group that made her life very difficult.  He thought of Zoey as going down the wrong path in life.  Her mother, of course, listened more to her husband than her daughter.  The day she was marked causes her parents to want to keep her from going to the House of Night, a school for fledgling vampyres-the only chance she has of surviving the change.  With her grandmother's help, she arrives at the House of Night, but not before having a strange vision/dream that seems to have affected her mark.  At the House of Night, Zoey meets a group of friends who become the family she never really had.  Her time at House of Night isn't all that easy.  Zoey starts being haunted by ghosts of students who didn't survive the change.  She also has attracted the attention of school hottie, Erik, and his ex-girlfriend, Aphrodite.   Zoey also has to deal with the fact that her ex-boyfriend, Heath, refuses to be an ex.  Oh, and her markings/tattoos seem to be growing and changing everyday.
I was very hesitant to pick up this book/series.  I had read many mixed reviews on the series as a whole-people either loved it or hated it.  I thought I'd get about halfway through Marked before putting it down; so I never started them.  That is, until my sister-in-law lent me the first 5 books in the series and told me that they were amazingly good.  I didn't love it.  But it was really interesting and I found myself wanting to find out what happened next.  The world is well-crafted. It is a world filled with pagan rituals, vampyres, and special powers.  The People of Faith reminded me of the Fellowship of the Sun from True Blood.  Zoey is forced into a world that from the outside looks like a curse, but to Zoey its much better than before.   Her friends are great and help her throughout the book.  Zoey's thoughts on characters and situations is shown through the narration-Zoey's POV.  I felt like I was in Zoey's head, seeing everything through her eyes.
Overall, I enjoyed it.  I will definitely be picking up the next in the series.  I give it 3/5.
Amazon | Barnes & Noble | Book Depository
Book Trailers:
[spotify https://open.spotify.com/user/121171848/playlist/2EHJwhpENqPMQWymhaygZr]